Sopan is an Ultra Marathon Runner with high level of achievement and recognition in athletics both in his home country Bulgaria and in the United States. He is a member of the Sri Chinmoy Marathon Team International. He has more then 18 years of experience as an Ultra Marathon Runner. He has run 18 multi day races including 6 days, 10 days, 700 miles, 1000 miles and the world's longest certified foot race – the Sri Chinmoy Self-Transcendence 3100 Mile Race.
He is the Bulgarian national champion record holder for all races—10 days and all distances from 700 miles, 1,000 miles, 1,300 miles all the way up to 3,100 miles. He continues to hold the record as the youngest person in the world to run 3,100 miles in 51 days. At the age of 22, he was also the youngest person in the world to run 700 miles in 12 days.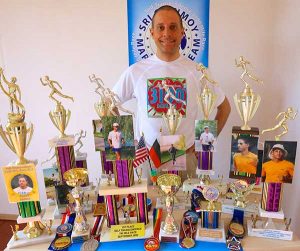 During the past 15 years he has given a number of motivational talks to audiences in the United States, Austria and Bulgaria sharing his running inspiration and experiences. Inspiring others for sports and physical fitness gives him tremendous joy and inner satisfaction and gives him the motivation to go forward and never give up in his running.